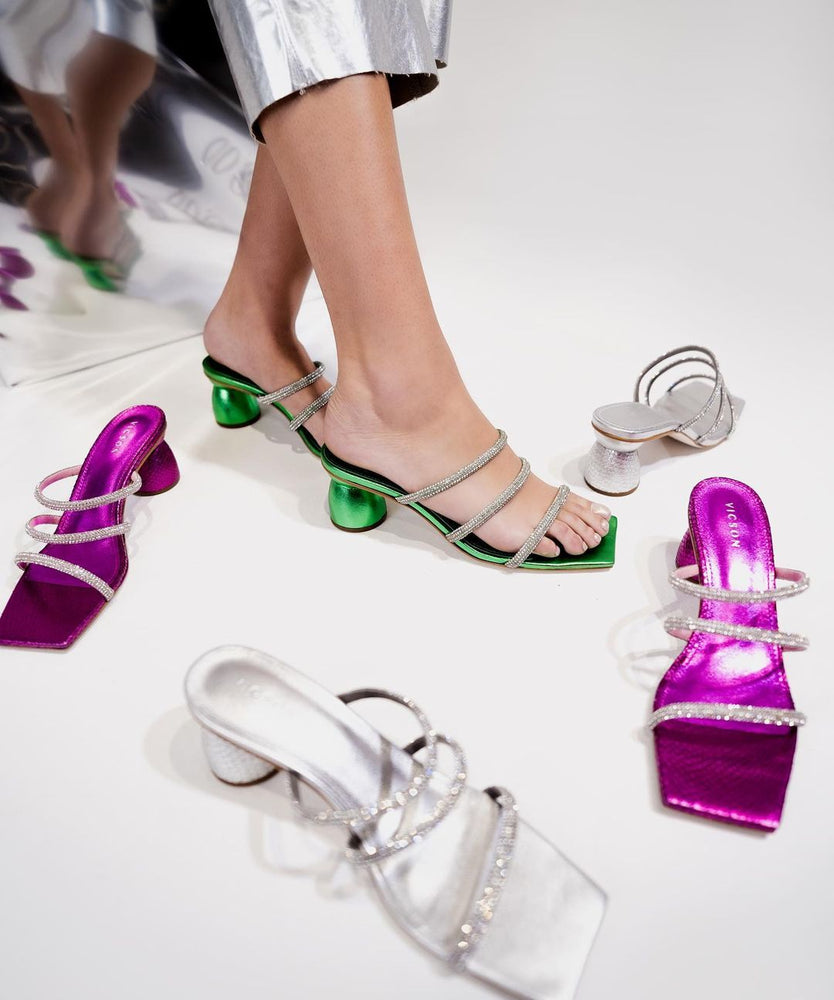 Sparkle, shimmer, and a dash of glamour – that's what rhinestones and sequins bring to the table when it comes to fashion. They used to be reserved for formal occasions, but little by little they have been integrated into everyday fashion. Lately, this trend has taken over social media and celebrity streetwear, which is why everyone is dying to get their hands on shimmery dresses and bedazzled sandals. This article will show you how to style your outfits to include enough shine (but not too much). 
Our Mia sandals. 
Accessorizing
Accessories are the perfect way to incorporate some shine to your outfit. Rhinestones are perfect for accessories like earrings, hair clips, or brooches to make your outfit look more glamorous. A classic little black dress with a rhinestone belt or a sequined purse can add just the right amount of sparkle without overwhelming your outfit. 
Mix and match styles
Pair a sequined top with tailored trousers or jeans for a striking contrast between casual and glamorous. Mixing these elements creates visual interest and adds depth to your overall ensemble.
Our Victoria heels. 
Layering
Layer a sequined or rhinestone-embellished cardigan or jacket over a simple dress or top to create depth and texture while maintaining a classy aesthetic.
Focus on one statement piece
Styling rhinestones and sequins requires a delicate balance to achieve a sophisticated look. Opt for garments or accessories with well-placed embellishments rather than an all-over glittery ensemble. For this, you can incorporate sequined or rhinestone-embellished shoes, such as pumps or sandals, as a statement piece. 
Subtle accents
Choose garments or accessories with subtle sequin or rhinestone accents, such as a collar, cuffs, or a hemline, to add a touch of sparkle without overpowering the entire outfit.
Rosa Crespo wearing a dress with a subtle shimmery collar (and our Mia Green shoes!).
Celebrity inspiration 
Of course we don't think you should follow in Doja Cat's footsteps and cover your entire face with rhinestones, but we want to give you some inspiration for your outfits. Celebrities often lead the way when it comes to embracing fashion trends, and rhinestones and sequins are no exception. Let's take a look! 
Gigi Hadid 
The model always likes to accessorize her monochromatic outfits with rhinestones and bling, maintaining a subtle and sophisticated aesthetic. She understands the art of balance, using these embellishments sparingly to add a touch of sparkle without overwhelming her overall look. 
Gigi Hadid on Instagram. 
Rihanna 
Always pushing fashion boundaries, Rihanna has embraced the trend of rhinestones and sequins in her performances and red carpet appearances. She has been spotted in everything from rhinestone-studded boots to sequined gowns, showcasing her fearless approach to style.
Taylor Swift 
The singer-songwriter is in part responsible for this trend. Most of her sold-out Eras Tour outfits shine and sparkle, even her guitar is bedazzled (by her own parents!).
Rhinestones are an easy way to make a statement, and what better way to do it than with a brand new pair of shoes? At Vicson we have a wide array of shoe options, from simple and versatile models, to shiny and embellished statement pieces. Embrace the sparkle and let your inner fashionista shine!